Robotech: Clone

The following material is from Robotech:Clone, a fan supplement by Lorcan Nagle. Please feel free to use, copy, and distribute it as you see fit. All we ask is that you give proper credit to me. Suggestions are welcome.
---
The Shock Divers (or SD-Naughts)
BACKGROUND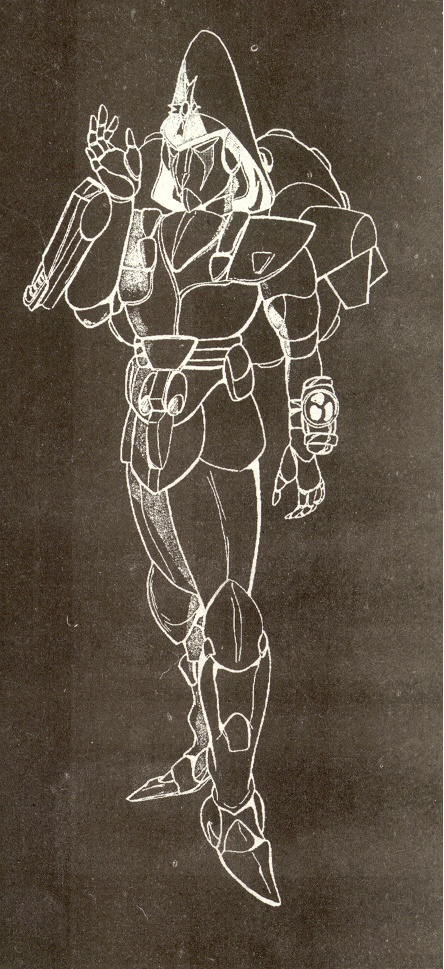 The IHE saw no real need for Mecha until after the SDF-3 left for Tirol. Upon seeing the battle armour the Armies of the Southers Cross were developing, Dr. Vaudell saw a good system to adapt to his own uses - an athmospheric dive suit. After appropriating a number od suits from the Southern Cross for research, Gilles decided that the human design was not up to the rigors that its mision role would decree for it. In order to make a viable suit, the IHE design teams turned to old, stolen technology: The Zentraedi modules Gilles took from the SDF-1 in 2005.
Upon investigation of the Zentraedi tech, it was found to be very versatile and modular - even down to the molecular level. With this breakthrough inb place, design of the suit went on quickly and efficently. The first suits were ready for testing by 2030, during the Master's Invasion of Earth.
Gilles was the firs person to test a Shock Diver in full operations. He launched from the Island of the IHE in the suit alone, and acchieved escape velocity quickly. However, IHE technicians lost his signal, and Gilles was lost in space for 48 hours before he was found be a shuttle, dehydrated and on the edge of death. This, it turned out, was a good thing, as Gilles was babbling about immortality, and something he called the Xalon Process.
Shock Divers resemble Southern Cross battle armour, but have a number of differences. Forst, the armour is more ornate, with small icons and other decorations adorning them. Secondly, a large, round backpack is standard issue, containing the mecha's power plant, reflex shield, and engines. Finally, the standard mounted weapon is attached to the wrist rather than hand held, although a hand held weapon may be substituted.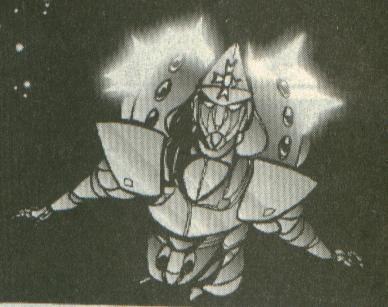 Every Soldier in the IHE military knows how to use a Shock Diver. It is standard issue to foot soldiers, who are known alternately as Shock Divers, SD-Naughts, or Sturznaughts. In addition, every mecha pilot, human or Type Z combat clone wears one in the cockpit, much as an REF pilot wears a CVR armour suit. Spleens never wore Shock Divers, however, although they were used by the IHE concurently until the Mordecai Mind Incedent.
RPG STATS
| | |
| --- | --- |
| Vehicle Type: | One man athmospheric dive suit |
| Models: | Shock Diver Mk.1 |
| Crew: | |
M.D.C. BY LOCATION

(1)  Main Body                                     		75
(2)  Backpack                                     		50
(3)Reflex Shield						30*

Depleting the M.D.C. of the Main Body destroys the suit, killing the pilot
Destroying the backpack will shut down the suit's flight capabilities, as well as the reflex shield and main power
See Equipment for Notes on Reflex Shield
NOTE: The Shock Divers incorporate the Southern Cross' laser resistant ceramic armor, so laser weapons do only HALF damage. This does NOT include any other energy attacks such as particle beams or ion blasts, nor does it help against explosives.
SPECIFICATIONS
| | |
| --- | --- |
| Athmospheric Flight: | 2252.6 kph. |
| Space Flight: | 10G acceleration for twenty minutes total. |
| Ground Speed | Equal to user's Spd |
| | |
| --- | --- |
| Height: | approk 2.8 metres |
| Width: |   |
| Length: |   |
| Weight: |   |
| | |
| --- | --- |
| Main Engine: | One IHE Mk.5 personal reflex pile. |
| Range: |   |
WEAPON SYSTEMS
SPC-34 Particle Accelerator. Carried on the arm, this is the standard weapon for all Shock Divers

Primary Puropse:Assault
Mega-Damage: 1D8 * 10
Range: 3,000 metres
Rate of Fire: Equal to Pilot's melee attacks.
Payload: Unlimited.
HAND TO HAND COMBAT: The Shock Diver is capable of performing all hand to hand combat manouvres of the wearer, but at triple the damage.
STANDARD EQUIPMENT
Reflex Shield. Provides a 30 MDC protection from all non-energy weapons. Recharges at 10 MDC per round. The Reflex shield must be at full capacity to perfomr an athmosphere dive.
LASER-RESISTANT CERAMIC COATING: Invented during the construction of Southern Cross mecha, this coating scrambles laser tracking and reduces laser damage by half (lasers ONLY).
RADAR: 500 Kilometre range. Can identify and track up to 3 targets simultaneously, and track a further 20.
RADIO COMMUNICATIONS: Wide band and directional radio and video telecast capabilities. Range is 600 miles (945 km) or can be boosted indefinitely via satellite relay.
LASER COMMUNICATIONS: Long-range, directional communication system. Effective range: 100,000 miles (157,500 km).
COMBAT COMPUTER: Calculates, stores, and transmits data onto the cockpit computer screen, heads-up display (H.U.D.), or the pilot's helmet display. Also, an AI system provides information on tactics and advice, giving +2 to initiave.
TARGETING COMPUTER: AI system which rates offensive capability of enemy units and provides likely evasive patterns based on speed, bearing, and displayed tactics of target. Gives +2 to hit.
LASER TARGETING SYSTEM: Can track any single target within 100 km.(10,000 km in space)
MOTION DETECTOR AND COLLISION WARNING SYSTEM: 30m range. Sounds an alarm and red light warns pilot of impending collision and/or immediate target.
TELESCOPIC OPTICAL ENHANCEMENT: Range to Horizon with 150X Zoom, plus Infra-Red, Starlight, and Electromagnetic emmissions.
EXTERNAL AUDIO PICKUP: 100m range. A sound amplification listening system that can pick up a whisper 100 metres away.
SELF-DESTRUCT: A last ditch effort to damage a foe is self-destruction. Explosive damage at 2D6*10 to everything within 10m. A dodge roll of 8+(with no bonuses) is allowed.
HEAT AND RADIATION SHIELDS: Special shielding prevents the penetration of life-threatening heat and radiation.
INDEPENDANT OXYGEN AND CIRCULATORY SYSTEM: Built-in tanks provide one day of continuous oxygen. With the special recycling systems, this may be extended to four days.